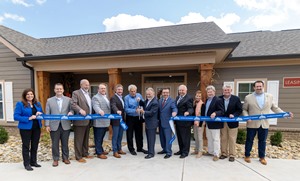 One of the truly special events at any housing community is the hosting of a "grand opening" or sometimes even a "grand reopening." As a team committed to developing great housing communities across the country, we often play a role in helping to plan and hold these "grand openings" for our projects.

Now more than ever it is critical to understand what it takes to successfully pull off a grand opening event, including any current rules in place for social distancing during the ongoing health pandemic. Options for special events can be more limited these days but they are still highly doable.

Even with the challenges of hosting special events during this time, there are a number of essential elements that are always present when considering how best to create a fun and successful grand opening.

Timing

The first is timing, which begins with the assumption that early is better.

At FOURMIDABLE, timing means a project schedule starting with a prominent construction sign, and includes details such as a contact name, website, and the contact phone number.

We also create online guest cards using our property management software to communicate with our prospective applicants.

At 120 days prior to receiving the Certificate of Occupancy, we will have prospects begin the application process and pre-qualify applicants based on income guidelines, program requirements and screening. Leases will be ready to be signed upon the receipt of the Certificate of Occupancy. The grand opening event will usually take place 60 days later.

Planning and scope

A goal without a plan is just a wish. The second essential element is planning the various details and connections that will make the grand opening a success.

With the ongoing pandemic, hosting an outdoor event is a great way to maintain social distancing and help ease any concerns over potential health issues. The size of the event may have to be smaller, but a fun, impactful opening is still very possible no matter the size of the audience or participants.

One way to do that is to organize the event around a theme. Finalizing a budget should also be established early. In our case, other details include coordinating the date, time, and attendees with the local chamber of commerce for the ribbon cutting ceremony as well as any other prominent local leaders who may need to be invited. We also contact local businesses for rental of a tent, table, chairs, and securing appropriate floral displays or refreshments.

Knowing the theme helps to branding the event with the community identity. You can then order any gifts or decorations and brand them with the logo of the property and, of course, send out themed-invitations.

Communication

The third essential element is communication, and it's here that "over communication" is better than overlooking something.

Speak with the local chamber of commerce and housing authority and invite them to help with the grand opening plans and the various steps needed to have the event be a success. You could also consider informing the local newspapers, especially those in small towns, using a press release announcing the opening.

Outreach

The final essential element is outreach. This includes the "tell everyone" platforms available to you, including your website and social media platforms like Facebook, Google and LinkedIn.

Be sure to send out invitations to neighbors and residents, local elected officials, and the police chief and fire marshal. Invite the business community through the chamber and consider advertisements in local newspapers and radio stations in the area. Seek opportunities for promotion on local radio and television community events programs. Plan and schedule any local advertising and confirmation of the event a week prior to it taking place.

Organizing a successful grand opening for a rental property is one of the most significant and potentially satisfying stages in a new community getting off on the right foot.

As we have seen over this year, figuring out meaningful and safe social events can be difficult, but with some energy and commitment it is possible to execute a successful grand opening. With attention to detail and a resolve to follow some essential steps, your next grand opening will be the success you have been striving toward.