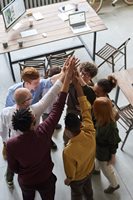 Maybe this will sound trite, but I truly mean it when I say this – people are what make FOURMIDABLE such a formidable company.

As I look back on the past 45 years of success our organization has enjoyed, there remains one constant. That's the men and women who work tirelessly every day to serve our clients, their properties and the needs of our team and their communities.

Think about it a bit more. We have over 7,000 units spread across 11 states. It takes a staggering amount of focus, coordination and dedication by everyone who works for our company to allow FOURMIDABLE to be so successful.

During this special anniversary year, I want to remind everyone that people are at the heart of what make us special. Recently we updated our corporate brochure, which lists all of our awards, honors and industry recognitions. It also lists all of our properties, from Michigan to Florida, and from South Carolina to Oklahoma. When I think about the combination of honors we receive each year and the diverse list of property types we help manage, I can only return to my original idea: people make all of this happen.

We have dozens of employees with more than 20 years with the company, many of whom have received well-deserved recognition in some of our online newsletters. Overall, the average tenure for an employee in our corporate office is more than 11 years. These are not just statistics to us; these are the results of hard work and commitment to our employees and clients.

So, what's it all about? I believe we strive to see things a bit differently, and so it comes down to relationships – long-term relationships that we are closely committed to, especially between our employees, our clients and our owners. That's not just some corporate-speak, it's a truism at FOURMIDABLE.

Most of all, we see people and communities first. Sure, we have plenty of processes and procedures critical to success. Certainly, we are focused on good financial stewardship as well, but none of that happens without people making a difference. Behind all those things, and effectively managing our properties and investments, are the people who organize, sustain, take care of and develop those relationships that in the end lead to a better experience for everyone.

I have been so blessed to know so many members of our FOURMIDABLE team. It is always gratifying to get to know people who do so much for other people. We've heard the phrase "frontline workers" a lot these days. Well, let me tell you, at FOURMIDABLE all of our people are just that – frontline workers doing an amazing job day in and day out.

In the end, it is because we are committed to building long-term relationships, that we do what's right for our clients, residents and associates.

Help me now in thanking the men and women who have helped make this company what it is over the past 45 years, and who will continue to give FOURMIDABLE a bright future.