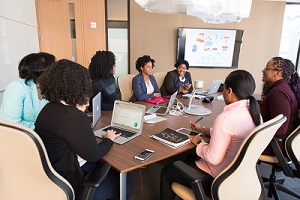 Have you ever heard the saying "in training there's no winning or losing, there's only learning?" We all know that Olympic athletes train every day, world-class musicians' practice endlessly and doctors spend years and years learning so they can help people in need.

As I see it, training – and staff development – should come naturally to any organization that wants to be successful. At FOURMIDABLE, we take this concept very seriously – knowing that everyone really does win when they learn.

So, what are some of the things we've learned over the years?

Let me start with the basics. Training, professional development and even things like mentoring programs should focus on one thing: advancing your team, their knowledge, skills and the goals for your company. Promoting learning promotes your team to be its best and encourages members to keep up with what's happening in your industry. It's also a key aspect of practicing employee engagement at a high level where staff understand your commitment to them and their success.

We focus on several training approaches at FOURMIDABLE, but these are just examples and not necessarily the full extent of our training at the corporate or the community level.

Online training approaches

For our team, online training begins with Fair Housing within 90 days of a new hire's start. The program is centered around the services of Grace Hill, which provides curriculum for fair housing, compliance, leasing, maintenance and management.

Staff members are required to complete modules within a certain time. These modules are purposefully designed by Grace Hill to be shorter, more engaging and specific to the property management industry. Most can be completed in two hours or less and offer ways to retain what's learned.

Grace Hill prides itself on what they call "talent performance solutions" that encompass policies, training and assessments. And they offer many years of multifamily experience, in-depth expertise and excellent customer support.

That's just one great example of an online approach. There are many organizations out there that can help, but it's important to find ones that focus on what you do and who are willing to work with you to create the best return on your investment.

Licensing and continuing education

For me personally, ongoing learning through continuing education is fundamental to retaining a great team of employees. That's why, at FOURMIDABLE, we support many levels of industry training and gaining certifications is strongly supported by our management team.

Supporting things like real estate licensing, housing certifications and maintenance training makes perfect sense. The investment in time and cost is well worth the return that comes from your team's growing abilities, improved confidence and up-to-date knowledge of what is going on around the country, whether it's in terms of compliance, legal changes, new government rules or the changing nature of documentation and technology.

What about in-house efforts?

Absolutely utilize the skills and knowledge of your own staff to develop ways internally to share knowledge and train one another. As your staff builds its knowledge through outside training, the opportunity to take that information to the rest of the organization can be a huge benefit to the entire team.

One example at FOURMIDABLE is the property management software training we do ourselves through the skills and knowledge of Michelle Joustra, our Residential Operations Specialist. Michelle has been a vital member of FOURMIDABLE's Entrata team and has countless hours of training, implementation, and creating best practices for our staff.

Being able to work internally keeps the team connected, makes logistics for training a little easier and offers opportunities for staff to show what they can do to help around the organization.

Mentoring and more

While mentoring itself is not often considered an aspect of training, I believe it can be a critical factor in promoting staff and developing new leaders from your younger or less experienced employees.

Think of mentoring as akin to "life training," where more experienced leaders share their knowledge, make lessons from their successes – and struggles – and help guide younger members. This helps build their confidence, their abilities to problem solve and be innovative, and reach new potential that alone might be more difficult.

Lastly, showcasing ideas through a blog shared with team members, community partners and leaders, and a broader property management world, is kind of like offering an abbreviated training course in and of itself.

So, stay focused on training, professional education and development, and recognize the value of sharing information internally and with others outside of your organization. It will benefit you in the long run.