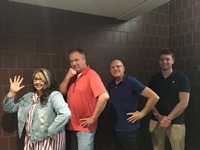 As our world continues to change and evolve due to the ongoing health crisis, property management agents are turning to new and innovative technologies to help improve their leasing practices and the lives of residents through automated resources and smart tools.

There are many industry practices that the team at FOURMIDABLE has focused on in our ongoing effort to strengthen community connections and develop ways for prospects, residents, managers and owners to maximize the benefits of the tools available in Entrata, our property management software system.

Two of the key elements in the Entrata platform are ProspectPortal and ResidentPortal. Both of these have allowed FOURMIDABLE to develop no contact, paperless systems for our prospects and residents. Our applications, screening processing, leases and lease addendums, rent payments and maintenance requests can all be completed and signed online.

FOURMIDABLE has also implemented Entrata's Internet Listing Services portal, which automatically synchronizes real-time pricing and availability data to all major internet listing services websites for effortless updates. This allows managers and owners the flexibility to change rents and add specials across all online marketing venues on demand.

Another key element, which we implemented in early April, is the ability for our on-site team to conduct remote and virtual open houses, so that prospects can view their new apartment without having to step foot on the property.

Many other electronic enhancements go beyond traditional leasing practices, such as package management with onsite lockers that provide easy, secure and contact-free ways to streamline deliveries and send automatic notifications when packages arrive in the office. Also, smart home technologies that integrate devices and allow residents to manage locks, thermostats, and lights are now being slated for our properties which are currently in development.

The information technology team at FOURMIDABLE is focused on the future and are working directly with the leaders in our industry to continue to develop leading edge processes to enhance the experience for our applicants, residents, owners and employees.