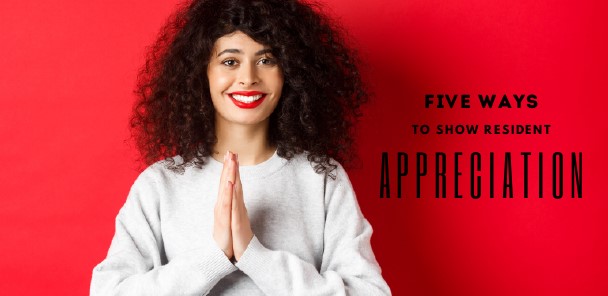 Residents are a huge part of the success of our properties. Making sure residents feel appreciated and heard can lead to less turnover and an overall better atmosphere at your community. Here are five easy ways to let your residents know they are appreciated:

Thank You Cards
One of the easiest and budget-friendly ways to show your residents you appreciate them is by writing a Thank you card. You can keep it short and sweet by simply saying, "Thank you for being a part of our community!". Be sure to personalize the card with the Resident's name and your signature.

Creating a Property Newsletter
A newsletter can help notify your residents of new things happening in the community. It can include events, reminders and can also be a great place to give some tips such as "How to eliminate pesky household odors" or "The best indoor plants to buy". You can also ask residents to send in accolades or updates and celebrate their big days or accomplishments with a shoutout.

Hosting an Event
A great way to show your appreciation is to host a get together. Events are a great way to bring the community together and doesn't have to break the bank. If you have a pool at your property – throw a pool party. Have a dog park? Host a Doggy Meet and Greet. No matter what kind of event you have, your residents will love getting to know you and their neighbors better.

Renewal Incentives
What better way to keep your amazing residents around than by offering renewal incentives. Having residents that respect your property and you have great relationships with are residents you want to keep around. Without our residents and the relationships we have nurtured with them throughout the years, we could not be successful. See what you might be able to offer to help your resident decide to stay another year.

Communicate
This may seem like an easy one, but sometimes just a quick check-in and a "Hey, how are you doing?" can go a long way with making sure your residents feel heard and appreciated. It also lets the resident know that the line of communication is always open if they need anything. Listening to resident's concerns and making sure they are taken care of is the best way to make your resident feel at home and ensure a long residency at your property.
Showing your residents that you care doesn't have to be difficult or expensive. Simple things like cards and open communication is all you need to ensure that your residents will feel the love.