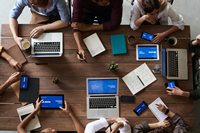 Technology is pervasive in today's business environment. How well we integrate that technology impacts our time management and productively at work. It can also affect our quality of life at home.

Over the past few years, technology and software used in the property management industry has shown significant improvement. Software offerings have transformed many property management office tasks such as digitized purchase orders, invoice processing, compliance software, resident utility billing, and check scanning. Interactive websites can now feature a property's current availability, lease rates, online application, electronic leases, and online chat with the leasing agent. Resident portals offer online resident payments, mobile-based service request management and community billboards.

These are some examples of value-added software used in our industry, but they have come at a cost. They are typically not all managed from within one software platform, therefore requiring another user login, another password to remember and another user interface to learn and master, they may not integrate well with the core property management / accounting software and therefore can require duplicate data entry requirements. There is also the challenge of keeping the data up to date.

We have been watching our industry's leading core software companies, such as Entrata, Yardi, MRI and Realpage make moves to stay competitive. Some are acquiring other value-added software companies, others are partnering with them, and some of the known software development leaders are building these value-added services right into their core property management / accounting software suite. The latter option provides the key to our technological future.

We are pleased to announce that after several months reviewing the latest releases of the leading property management / accounting software available, we have selected Entrata to replace AMSI at all of our conventional, tax credit and Section 8 properties. Entrata has designed their software with much more flexible reporting and with the end user and resident's needs at the forefront of their design, while providing a new level of flexible reporting methods. One login, one password, and one user interface are all that is needed to navigate all of the marketing, leasing, resident management, compliance, online payments, check scanning and other features, thereby eliminating the need to use so many different software solutions at our properties.

We will be rolling out Entrata throughout 2018 and are excited about our enhanced technological future!